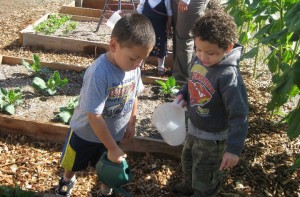 en espanol
The Stone Soup Family Garden at Safe Passage Family Resource Center was established in the Fall of 2010. With 8 garden beds, a flower border, succulents and herbs this garden has transformed the space creating opportunities for families to learn how to grow food and take home their harvest. We thank the Mendocino Coast Children's Fund and First 5 Mendocino for their help in supporting the creation of this garden.The Stone Soup Family Garden is thriving well on their own, and NFF has moved on creating community one garden at a time!

Jardín Stone Soup Family
Establecido en el otoño del 2010, uno de nuestros más nuevos jardines es "The Stone Soup Family Garden" (Sopa Familiar de Piedra) en el Centro de Recursos para la Familia de "Safe Passage". Este es un espacio maravilloso con 8 camas donde crecer verduras, un borde de flores, cactuses y hierbas. Este jardín transformó el espacio y creó una oportunidad para que las familias aprendan como jardinear, incorporen nuevas comidas a sus dietas y puedan llevar a sus casas productos frescos. Agradecemos al fondo "Mendocino Coast Children" y "First 5 Mendocino" por su apoyo en la creación de este jardín.