EARTH DAY April 21, 2018 info coming soon!
April 22, 2017 – Noon to 5pm | A benefit for The Learning Garden At Fort Bragg High School

Teach-Ins, Music, Dance, Activities for the Kids & More!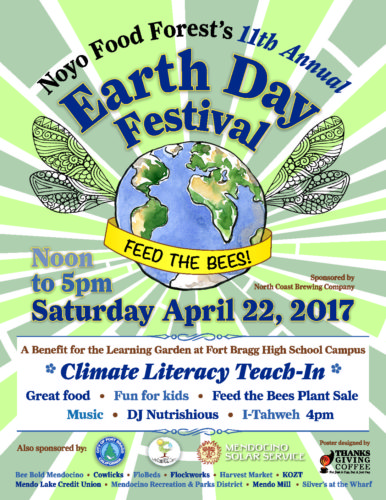 Climate Literacy Teach-In:
Walt McKeown * Bruce Erickson * Sakina Bush
Music all afternoon with:
DJ Nutrishious
Matthew Kravitz
Seaside String Sisters
Zumba by Noel
Sarah Wagner
Chuck Tourillott
Say What 2:45 pm
I-Tahweh 4:00 pm
For over a decade the Noyo Food Forest has been building community one garden at a time and the culminating celebration each spring season is the annual NFF Earth Day celebration…You don't want to miss it!!
Thank you so much to our sponsors:
North Coast Brewing Co* Mendocino Solar Service* City of Fort Bragg* North Coast RC&D Council* Thanksgiving Coffee Company* Cowlicks* Dirt Cheap & Mendocino Agriculture Products* FloBeds* Harvest Market* The Coast KOZT-FM* Mendo Lake Credit Union* KNYO MCRPD* Mendo Mill* Silver's at the Wharf*
Sunday, April 9, 2017 – Learning Garden Beautification
Join the NFF team in giving the Learning Garden a little love in preparation for Earth Day!
If you're unable to attend this date but would like to be involved in some way (volunteering, sponsorship, entertainment, etc.), please call 707-357-73680 or email to admin@noyofoodforest.org.
—
Scroll down to see earlier NFF Earth Day Festivals, and our generous partners and sponsors.

---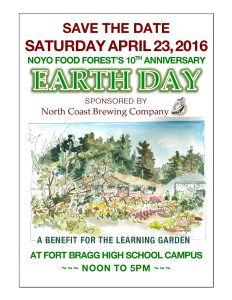 Our 9th Annual Earth Day Festival will take place
Saturday April 25, 2015

!

Earth Day is Noyo Food Forest's most important annual benefit. Earth Day is family friendly with delicious food, great music, activities for kids, workshops, a plant sale, and more.

Huge thanks go to our amazing sponsors who make this event possible:
---
Our 8th Annual Earth Day Festival will be Saturday, April 26, 2014 from 12pm to 5!
WE ARE GRATEFUL FOR THE GENEROUS SUPPORT FROM OUR PRESENTING AND COMMUNITY SPONSORS OF THE  7TH ANNUAL EARTH DAY FESTIVAL ON SATURDAY APRIL 26, 2013:
Platinum Sponsors
North Coast Brewing Company
AmeriCorps NCCC Pacific Region
KOZT-FM, Media Sponsor
Silver Sponsors
Campbell Timberland Management
Mendo Lake Credit Union
Mendocino Solar Service
Mendocino Transit Authority
North Coast Resource Conservation & Development Council
Community Sponsors
Corners of the Mouth
Cowlick's Ice Cream
FloBeds
Harvest Market
Highway 20 Feed
Living Light International
Roundman's Smokehouse
Savings Bank of Mendocino County
Silver's at the Wharf & Anchor Lodge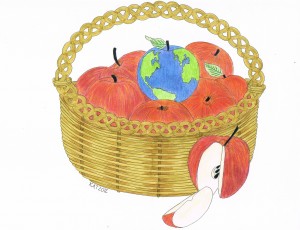 On the last Saturday of April, from noon to 5pm at the Fort Bragg High School Learning Garden, 300 Dana Street, Noyo Food Forest will hold this annual free fun family event, supporting our Farm to School program at Fort Bragg Unified School District.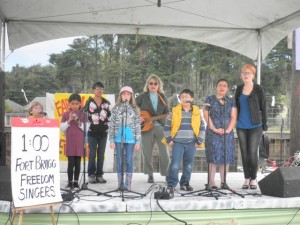 This cornerstone North Coast community event offers live music and entertainment, culinary showcases featuring fabulous local food and chefs, hands-on sustainable living workshops, kids' activities, a community art project, and the ever popular Spring Plant Sale.
Discover how community gardens enrich all of our lives. Noyo Food Forest's Earth Day Festival is a not-to-be-missed event!