Summer Youth Internship Program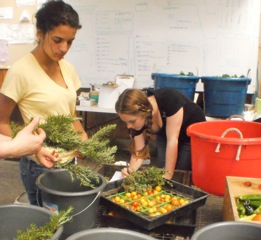 We're now hiring Summer Youth Interns for 2013! Applications are due by Friday, May 31st.
2013 Summer Youth Intern Application
Inspiring teens since 2007, our Summer Youth Internship Program provides training and hands-on experience for enthusiastic, motivated youth in organic, community based agriculture and commerce.
During the growing season, these paid Youth Interns grow and harvest tons of fresh nutritious produce at the Learning Garden for their community, develop merchandising skills by working at the Farmers Market, and discover the value of social enterprise while tending and supporting other school and community gardens on the Mendocino Coast. In learning by doing, the Interns acquire critical lifelong skills and nourish each garden with their positivity, laughter, and hard work.