BEANS (Better Eating, Activity, and Nutrition for Students)
en espanol
BEANS is wrapping up its fourth year teaching nutrition and cooking at the schools and in the community!  The Noyo Food Forest has partnered with North Coast Opportunities in this countywide program which hires 6 high school students in Fort Bragg to become peer nutrition educators. For the first semester of the school year, these teens attended weekly trainings at Safe Passage to learn more about healthy eating, cooking and gardening. During the second semester, BEANS peer nutrition educators reached hundreds of elementary and middle school kids through the KUDOS and ASSETS after-school program. The lessons are centered around the fun of preparing healthy food together. In the summer, BEANS teens go out into the community giving seven healthy food demonstrations at the Food Bank and Safe Passage Family Resource Center.  The program ends on July 10th, 2013.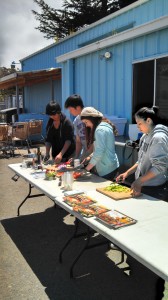 BEANS (Mejor Comer, Actividad y Nutrición para los Estudiantes)
BEANS está de vuelta otra vez por su cuarto año de enseñanza nutrición y cocina en las escuelas!  Noyo Food Forest  se asoció con North Coast Opportunities en este programa en todo el condado que contrata a 6 estudiantes de secundaria en Fort Bragg para convertirse en educadores de nutrición. Para el primer semestre de la escuela, estos jóvenes asisten a los entrenamientos semanales en Safe Passage para aprender más sobre la alimentación saludable, la cocina y la jardinería. Durante el segundo semestre, BEANS pares educadores en nutrición llegar a cientos de niños de primaria y secundaria a través de los KUDOS y ASSETS programa después de clases. Este año, habrá un componente adicional para la enseñanza agregó que los adolescentes enseñan a sus compañeros sobre la importancia de comer sano y realizar actividad física. Las lecciones se centran en la diversión de preparar la comida sana. En el verano, los adolescentes BEANS salir a la comunidad dando demostraciones de alimentos saludables. La contratación y la contratación está en curso hasta 5 de octubre 2012!