Each Fall, Noyo Food Forest and North Coast Brewing Co. join together and celebrate the Fall harvest with a fundraising event, the Harvest Dinner.
Join us for a delicious multiple course dinner, including dessert, each paired with North Coast Brewing's masterful brews. Beginning with the opening reception and throughout the meal, you will learn details of the bounty and beers, as well have the opportunity to participate in a silent auction featuring amazing items from local artisans and businesses.
The evening is generously sponsored by North Coast Brewing, all proceeds benefit Noyo Food Forest.
With gratitude,
2017 Harvest Dinner:  Thursday, November 2 at 6PM. Reserve your ticket(s) now!
NFF Harvest Dinner 2017 Invite
NFF Harvest Dinner 2017 Invite MENU
Noyo Food Forest Harvest Dinner Menu
Opening Reception: Cranberry-Quince Berliner Weisse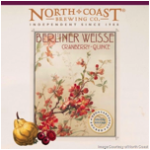 First Course:
Goat Cheese Salad
Fresh mixed local greens topped with almond slivers, fresh grated beet, and herbed goat cheese, served with
a side of Maple Apple Vinaigrette.
Paired with: Le Merle Belgian Style Farmhouse Ale
Second Course:
Porcini & Black Truffle Mushroom Ravioli
Porcini and black truffle raviolis served with a mushroom cream sauce.
Paired with: North Coast Steller IPA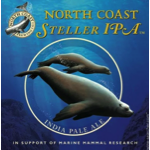 Main Course: (choice of)
Stuffed Bell Peppers
Bell Peppers stuffed with seasoned rice and sautéed vegetables, roasted in our stone hearth oven and topped with melted cheese.
~OR~
Pork Loin & Plum Sauce
Pork Loin seared to perfection, topped with plum sauce, served with garlic mashed potatoes and seasoned vegetables.
Paired with: Brother Thelonious Belgian Style Abbey Ale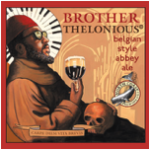 Dessert:
Chanterelle Apple Pie
House made Chanterelle & apple pie with caramelized onions and a scoop of Cowlick's vanilla ice cream.
Paired with: Old Stock Ale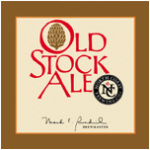 ~ The evening is featuring North Coast Brewing Company's masterful brews, no wine or cocktail bar ~
Menu subject to change based on availability.
See below for past Harvest Feast menus…

Past Harvest Feasts:
2016 Harvest Feast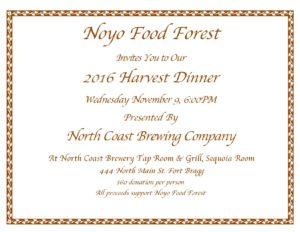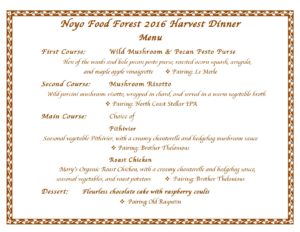 ---
Here's the fabulous menu:
Course One
Green Pasole with Cod and Cilantro
–
Course Two
 Roasted Cauliflower and Arugula Salad with Sumac Dressing
–
Course Three
 Wild Mushroom and Burrata Lasagna
Or
Beef Tenderloin with a Huckleberry sauce & Sauteed Hen of the Woods Mushrooms
–
Course Four
 Candy Cap Bread Pudding with an Old Stock reduction
To reserve by check: Send your payment with the following information:
Number of places to reserve at $60 each, Total amount, Choice of Beef or Vegetarian
If you can not attend but would like to send a tax deductible donation to benefit Noyo Food Forest, please provide your Name, Address, Email, and Phone Number along with your check.
Mail to : Noyo Food Forest P.O.Box 974 Fort Bragg CA 95437
 To see the official invitation and Menu, Click
here
or on the image below: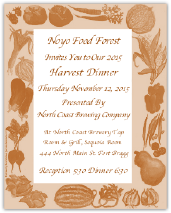 ---
2014 Harvest Feast
Sponsored by North Coast Brewing Company
Tuesday November 18, 2014 at North Coast Brewing Co Tap Room & Grill, Sequoia Room.
444 North Main Street, Fort Bragg
Please join us at 5:30 pm for beer and appetizers followed by Dinner at 6:00 pm
Celebrating our local bounty featuring organic produce from the Noyo Food Forest Learning Garden
$75.00 donation per person. All proceeds go to support Noyo Food Forest. All contributions are tax deductible.
Course One
Pennyroyal Farmstead Laychee goat cheese
with whole baked garlic, roasted red peppers and flat bread
Le Merle Belgian Style Farmhouse Ale
–
Course Two
Warm Spinach Salad
with Avocado and Andoullie Sausage Vinaigrette
PranQster
–
Course Three
Virginia Ham Braised in Brother Thelonious and Cider
served with prunes stuffed with green olives, with roasted fingerling potatoes and butternut squash
Brother Thelonious
–
Course Four
Poached Apple
stuffed with Blue Cheese with and Old Stock reduction
Vintage Old Stock Ale
---
2013 Harvest Feast
On 10/10/13 – Thursday October 10th at 5:30 pm– Noyo Food Forest and friends will spend the evening at Mendo Bistro for our 2nd Annual Harvest Feast & Silent Auction. Last year the event was a huge success; the dinner was delicious, and the company was much enjoyed.  We look forward to another fun evening!
The menu for the evening is a succession of delicious preparations from exclusively local sources prepared by Chef Nicholas Petti of Mendo Bistro.
Tickets are $60 per person. Call 964-0218 for more information, or email admin@noyofoodforest.org.
Noyo Food Forest has recently made growing healthy organic food a reality for people of all ages and abilities. Thanks to the generous pledges received at our 1st Annual Harvest Feast, we have made this dream come true with our beautiful new Garden Within Reach, a special accessible garden, with raised beds at wheelchair and standing height, at our Learning Garden behind Fort Bragg High School. Our Garden Within Reach is making differences in many people's lives.