Temuco Quinoa – Grown on the Mendocino Coast!
by Magnolia Barrett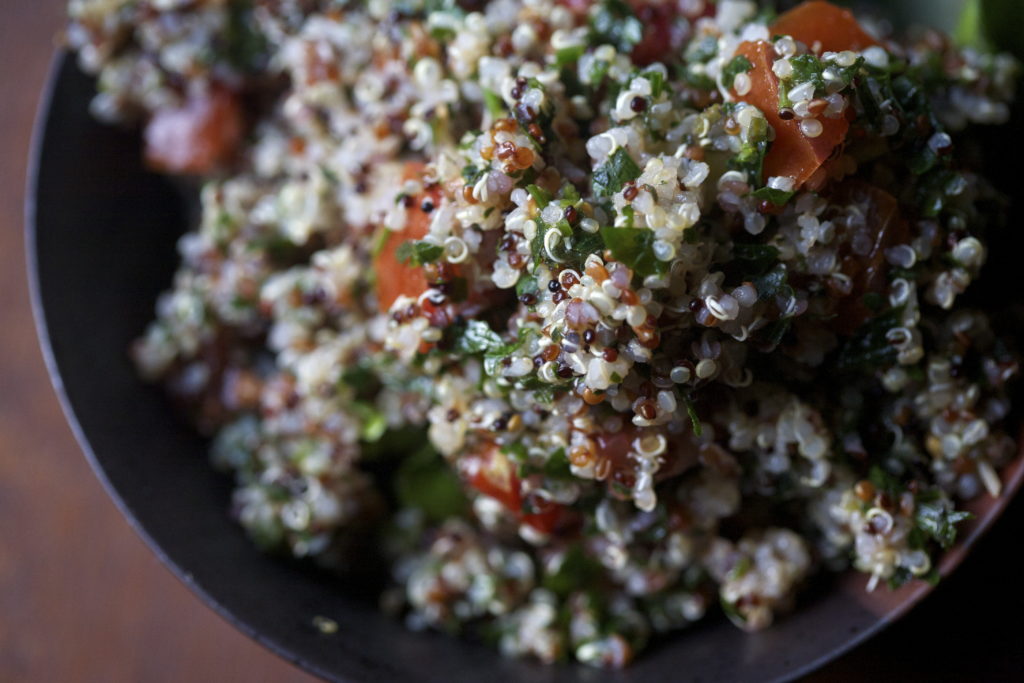 General Quinoa Facts
The FAO of the UN declared 2013 the International Year of Quinoa and recognized its importance in global food security
 In 1993, NASA asserted that quinoa comes as close as any singular plant or animal could to supplying all the "essential life sustaining nutrients"
Lightly harvest leaves for soups & salads without greatly impacting seed crop
Quinoa is a Chenopodiaceae, the same plant family as beets, spinach, chard, and amaranth:
High in protein & essential amino acids
Good source of phosphorous, calcium, iron, vitamin E, & several B vitamins; gluten free!
Very drought tolerant
Seed coat saponin protects seeds from birds & insects. It is very bitter & must be
washed before human consumption.
A Globalized Food System…
In recent years, quinoa has risen in popularity as a delicious alternative to gluten-ful grains and is an incredible source of plant based protein and amino acids. Much of the grain consumed globally is imported from Latin American countries whose people traditionally depend on quinoa as an important dietary staple.
Guess what?
Quinoa can be grown locally! AND you can find Quinoa seed for free from Matt Drewno's  Victory Gardens for Peace Seedbank.  If you are a home gardener interested in participating in our local seed bank, contact Matt at rhythmicwater@hotmail.com.
Seed sovereignty is an important part of food sovereignty, local resiliency, and community empowerment.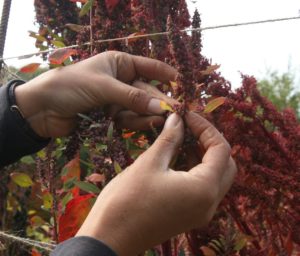 Take part in your front or backyard!
Save a pinch to 1 tbsp of seeds and grow your own quinoa next year! Its amazing to see one of these tiny seeds turn into thousands.
Bountiful Gardens Growing Instructions
Days to Maturity 90-110
Germination Days: 3-4
Planting Depth: ¼"
Transplant Spacing: 12"
When to Plant: Late Spring
Sow in flats on 1″ centers shortly before last frost. May not germinate well in hot weather. Transplant when second set of leaves appear to 12″ centers in garden. Be careful not to overly disturb roots when transplanting. Needs well-drained, fertile soil and prefers cool weather. Water sparingly.
Washing Instructions for Cooking
1. Place Quinoa in a large jar and fill with fresh water.
2. Shake vigorously & let settle.
3. Skim off any plant material that floats to the surface.
4. Pour contents into a sieve.
5. Return seeds to jar & repeat until there is little plant material floating to the top. Just a little extra fiber in your finished quinoa is okay!
6. Add seeds to a blender.
7. Fill with fresh water.
8. Pulse for a few seconds. A large amount of foam should accumulate at the top. Pour it off and add fresh water.
9. Repeat a few times (I find that 4 times does a good job).
10. Do a final rinse in the sieve under fresh running water.
Cooking Instructions
1. Add quinoa to your saucepan on medium heat.
2. Stir frequently to "toast" and dry the quinoa seeds. Do this for about 3-5 minutes. It isn't necessary, but it adds a nice richness to the finished product. Be careful not to burn the seeds! Reduce heat if needed.
3. Add enough water (or favorite broth or stock) to cover the grain by a half inch or so
4. Bring to a boil, then reduce to a simmer. Do not stir until the water level is at or below the grain level.
5. Taste the grain. Still crunchy? Add a little more water and keep cooking. Just perfect? Pour into a sieve and drain off extra water. (Final product should not be mushy!)
6. Add a bit of olive oil & season to taste.
Enjoy!
Sources
FAO: International Year of Quinoa: http://www.fao.org/quinoa-2013/en/
"Against the Grain." The Economist. May 21, 2016. www.economist.com
"Quinoa Confusion." Fife Diet: Think Global, Eat Local. Jan, 22. 2013. http://fifediet.co.uk/
Local Garden & Seed Resources
Bountiful Gardens. Willits, CA.  Seeds, tools, resources, and more.
We have a seedbank on the Mendocino Coast! https://rhythmicwater.wordpress.com/. You can contact Matt Drewno at rhythmicwater@hotmail.com
Stay Connected!
Find more resource here at www.noyofoodforest.org
"Like" us on Facebook: https://www.facebook.com/noyofoodforest/
"Follow" us on Instagram

Comments
comments