Seventh Annual Earth Day Festival
Noyo Food Forest's Seventh Annual Earth Day Festival is on Saturday, April 27 from noon to 5pm at the Fort Bragg High School Learning Garden, 300 Dana Street. This free fun family event supports our Farm to School program at Fort Bragg Unified School District.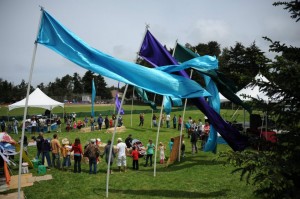 The highlight of this year's Earth Day Festival will be the dedication of Noyo Food Forest's new wheelchair accessible Garden Within Reach for our elders and mobility challenged friends.
This cornerstone North Coast community event offers live music and entertainment, culinary showcases featuring fabulous local food and chefs, hands-on sustainable living workshops, kids' activities, a community art project, and the ever popular Spring Plant Sale.
Discover how community gardens enrich all of our lives. Noyo Food Forest's Earth Day Festival is a not-to-be-missed event!